Miscellaneous Sterling Silver Pieces
This section of the website will be used to show miscellaneous sterling silver jewelry from James Hardwick.
SILVER RINGS
SILVER EARRINGS
SILVER PENDANTS/CHAINS
MISCELLANEOUS SILVER PIECES
Click on images for a closer look
---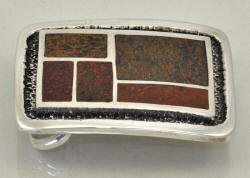 Sterling Silver Belt Buckle with Dinosaur Bone Inlay - JM94
This is a heavy cast sterling silver belt buckle with large pieces of genuine dinosaur bone carefully cut and inlaid in place. Designed and handcrafted by James Hardwick.