With the rising cost of gold, the popularity of silver jewelry is soaring! In this new section of our website you will find many of our best selling pieces in Sterling Silver. If you see a style you like but aren't crazy about the stones as shown, shoot us an email! As with the gold jewelry, each piece is made by hand, according to your preferences! You should allow at least two weeks for delivery, so if you need something for a special occasion, be sure to plan ahead! Prices on all pieces vary according to stones.
JR174 - $95
Sterling Silver inlaid band with three faceted stones bead set vertically in the center. Shown with sugilte, turquoise, opal and malachite inlay.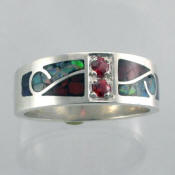 JR174 With Rubies - $95
Sterling silver band inlaid with assorted stones that nicely accent the two ruby center stones.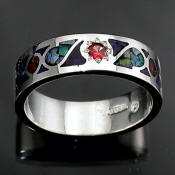 JR171 - $89
Assorted inlay of natural stones create an intricate design in this band. Popular with ladies and gents, with many faceted gemstones available for the center!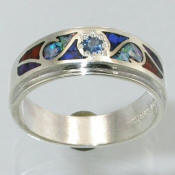 JR135 - $89
The stepped edge on this sterling silver band offers a bit of extra pizazz and style. You choose your center and inlay stones!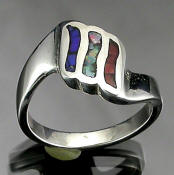 JR113 - $79
Shown with Lapis, Opal, and Coral inlay, this smooth, swirly band is fun and easy to wear.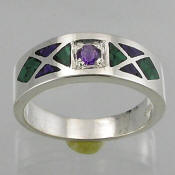 JR102 - $89
Purple amethyst is surrounded by colorful chip inlay in a variety of natural stone.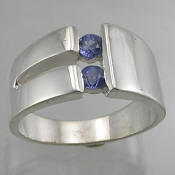 JR223 - $165
This simple design is clean and uncluttered, providing the perfect way to show off the beautiful blue sapphires.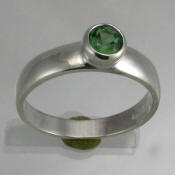 JR215 - $79
Sterling silver solitare style ring shown with green tourmaline.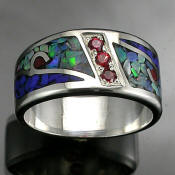 JR79 - $135
Rubies surrounded by Australian Opal and Lapis inlay make this wide sterling silver band a must have!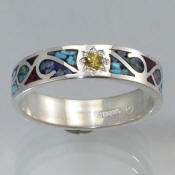 JR39 - $89
Sterling Silver band with chip inlay in an assortment of natural stone. Shown with a yellow sapphire center stone.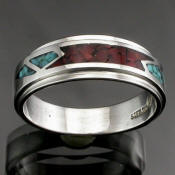 JR38 - $65
Coral and turquoise chips inlaid into a sterling silver band with a stepped edge.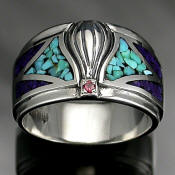 Hot Air Balloon Ring - $105
Natural stone inlay surrounds a hot air balloon in this unique sterling silver ring. A small ruby is set into the basket.