With the rising cost of gold, the popularity of silver jewelry is soaring! In this new section of our website you will find many of our best selling pieces in Sterling Silver. If you see a style you like but aren't crazy about the stones as shown, shoot us an email! As with the gold jewelry, each piece is made by hand, according to your preferences! You should allow at least two weeks for delivery, so if you need something for a special occasion, be sure to plan ahead! Prices on all pieces vary according to metal and stones.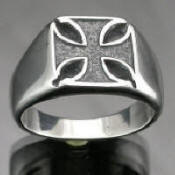 JR224 - $55
Sterling silver ring for men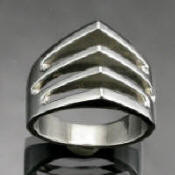 JR84 - $49
Sterling Silver Pyramid Ring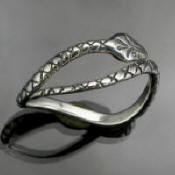 Snake Ring Sterling Silver- $15.50
Wrap this dude around your finger to get noticed! Handcrafted Sterling silver snake ring with great detail.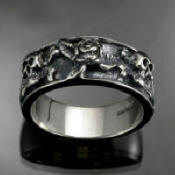 Skull and Roses Ring - $55
Antiqued sterling silver band with skulls and roses design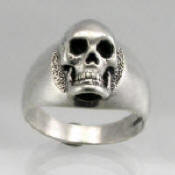 GS209 - $55
Sterling silver skull ring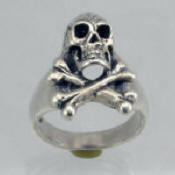 JR188 - $79
Sterling Silver Skull and Crossbones Ring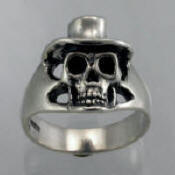 JR142 - $55
Sterling silver skull ring. Yes, this guy is wearing a hat.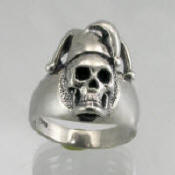 JR104 - $59
This is one of our most popular skull rings. Must be the jester's cap.
JR68 - $95
This large sterling silver ring features a winged skull with a dagger through its head. Handcrafted by James Hardwick.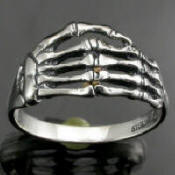 GS222 - $21
Sterling silver skeleton hand ring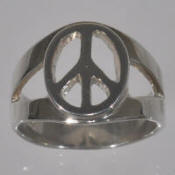 Peace Sign Ring - $35
The peace sign in our ring sits within an oval instead of the usual circle, creating a unique look on a classic symbol.