With the rising cost of gold, the popularity of silver jewelry is soaring! In this new section of our website you will find many of our best selling pieces in Sterling Silver. If you see a style you like but aren't crazy about the stones as shown, shoot us an email! As with the gold jewelry, each piece is made by hand, according to your preferences! You should allow at least two weeks for delivery, so if you need something for a special occasion, be sure to plan ahead! Prices on all pieces vary according to metal and stones.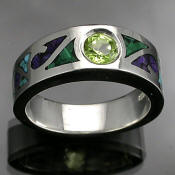 Dome Ring JR226 - $159
Sterling silver ring with Peridot center stone surrounded by natural stone inlay.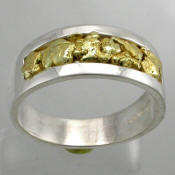 Gold Nugget Inlay Ring - $195
Sterling silver band with natural gold nuggets inlaid across the top.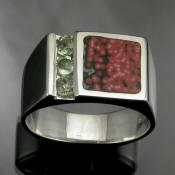 JR170 - $190
Gents ring featuring Ocean Jasper set in Sterling Silver.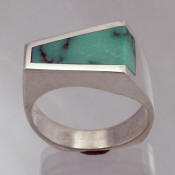 JR127 - $110
Sterling Silver Ring with Turquoise inlay. This is a great size & style for men and women both.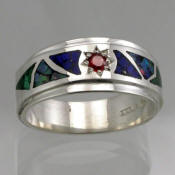 JR45 - $95
Sterling silver stepped edge band with center stone and chip inlay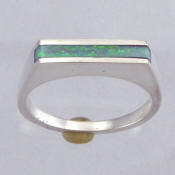 GS49 - $70
Narrow sterling silver ring with Austrailian Opal.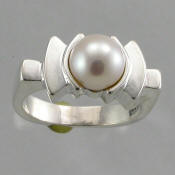 JR32 - $75
Sterling silver pearl ring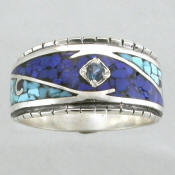 GS18 - $95
Turquoise and Lapis inlay surrounding a small sapphire. This sterling silver ring is poplular with men and women both.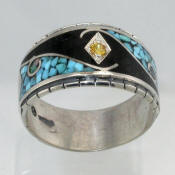 GS10 - $129
This is a wider version of our GS18. Shown in sterling silver with turquoise and black onyx.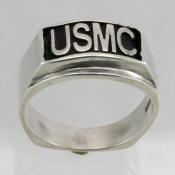 JR200 - $55
Sterling silver USMC ring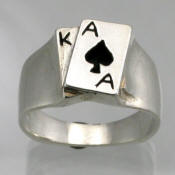 JR139 - $55
Sterling Silver "Big Slick" Ring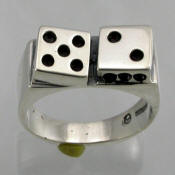 JR11 - $59
Sterling Silver Lucky 7 Dice Ring