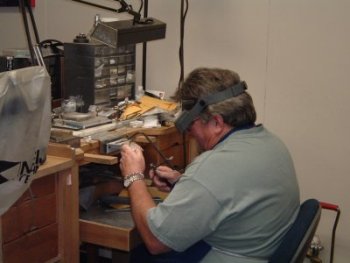 James Hardwick has been designing and handcrafting jewelry in the Salt Lake City Valley since 1973. He started during the Turquoise and silver craze of the 70's and in the years since has developed his own clean, uncluttered styles. He uses a variety of precious and semi precious stones, setting them in gold, platinum and silver. His specialty is mosaic and solid stone inlay, often combining this beautiful art with faceted stones and cabochons. Diamonds, rubies, sapphires, emeralds and many other faceted gemstones are set with a large variety of inlaid stones, including Australian Opal, Turquoise, Lapis, Sugilite, and Malachite to create beautiful, high quality jewelry.
In addition to creating his own designs, James enjoys turning the ideas of his customers into wearable art in the form of rings, pendants and slides, bracelets, earrings, pins, money clips and just about anything else you can dream up! Do you have a diamond or other stone that you would like to have remounted in a new piece? Call James! Hint: James has extra time for custom jewelry orders during the winter when his show schedule is slow (or nonexistent).
Art festivals and jewelry shows keep James busy most of the year. He has always loved to travel and has combined this with his love of making and selling his jewelry. He enjoys meeting people from all over the country at the many shows he does in the Western United States, including his home state of Utah. If you have the time, check out a few of the artists James meets while on his travels.



---