James Hardwick Jewelers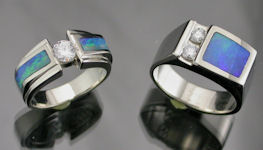 New wedding sets are being added to the website, starting on Page 2 of our Wedding Section. If you're looking for rings that will be unique and to your own personal taste, be sure to take a look. Jim loves to work with couples to design and create special rings, bands, and sets that nobody else has, so if that sounds like what you're looking for, don't hesitate to contact him!
Many of the prices shown here are outdated as it's been impossible to keep up with the changing cost of gold and silver. Please inquire for current prices of particular pieces.
To see if Jim will be coming to your city this year, be sure to check out his Show Schedule. I will be updating it as new shows are confirmed.
If you have any questions, or would just like to say hi, you will find all of Jim's contact information on the Contact James page of this website.